Caring for the environment has been part of our DNA since our inception. We were the first tissue manufacturer in Australia to own and operate a recycled tissue mill and we continue to this day to remain 100% committed to minimising the environmental impact of our products.
The clearest evidence of this is found in our ethical sourcing of raw materials that are recycled or approved by the world's leading sustainable forestry certification authorities.
Furthermore our operations are certified by these independent authorities at all levels under chain of custody schemes. Their marks of approval are the guarantee that we are helping to protect forests for future generations and promoting the responsible sourcing of timber resources worldwide.
In addition, our plant continuously takes measures to improve energy efficiency and fully complies with the conditions of its license issued by the Queensland Government's Department of Environment and Heritage Protection.
By doing everything we can to manufacture our soft tissue sustainably, customers can be fully confident that in buying Queensland Tissue Products, they are doing their very best to help the environment.
FSC®
FSC® is the world's leading authority on creating responsible forest management standards. We all know forests are more than just trees. They're about people, communities, animals and habitats that thrive in our forests. FSC® helps take care of the world's forests for future generations.
Queensland Tissue Products is certified under multi site FSC® chain of custody certification awarded to ABC Tissue Products.
For more information visit au.fsc.org.

Great Barrier Reef

Foundation
Queensland Tissue Products has a number of community programmes in place. One of the most significant is our support of the Great Barrier Reef Foundation (GBRF).
Combating the destruction of the Great Barrier Reef and the aquatic life it supports is of major importance to all Pacific countries.
Being a proud GBRF Corporate Supporter means that when anyone buys our ecofriendly Softex Tissue Great Barrier Reef range they will be directly helping the Foundation with their work.
For more information please visit: barrierreef.org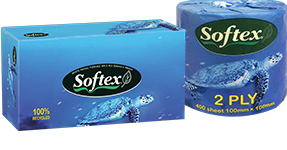 PEFC™
The Programme for the Endorsement of Forest Certification (PEFC™) is an international non-profit, non-governmental organisation dedicated to promoting responsible forest management through independent third-party certification.
PEFC works throughout the entire forest supply chain to promote good practice in the forest and to ensure that timber and non-timber forest products are produced with respect for the highest ecological, social and ethical standards. Thanks to its eco-label, customers and consumers are able to identify products from responsibly managed forests.
Queensland Tissue Products gained PEFC™ certification in October 2009.
For more information on PEFC, please visit: pefc.org

Policy Statement & Aims
Policy Statement
Queensland Tissue Products Pty Ltd is committed to purchasing forest products from legal, non-controversial sources that support the environment and adhere to ILO Conventions.
Preference is given to suppliers who are recognised by third party certifiers as meeting recognised and creditable Sustainable Forest Management Standards.
A due diligence assessment of all suppliers of forest products will be carried out on an annual basis.
Queensland Tissue Products Pty Ltd will not be directly or indirectly involved in the following activities:
Illegal logging or the trade in illegal wood or forest products;
Violation of traditional and human rights in forestry operations
Destruction of high conservation values in forestry operations
Significant conversion of forests to plantations or non-forest use;
Introduction of genetically modified organisms in forestry operations
Violation of any of the ILO Core Conventions, as defined in the ILO Declaration on Fundamental Principles and Rights at Work, 1998.
Queensland Tissue Products Pty Ltd will not be involved with organisations that are not equally committed to Occupational Health and Safety standards.
Policy Aims
The aim of this policy is to provide guidelines for the ethical purchasing of paper, pulp and recycled material used in the production of our finished product that supports social, environmental and economical sustainability on a long term basis.
Responsibilities
Senior Management, supervisors, employees, contractors and visitors must take all reasonable steps to ensure the safety of others and themselves including compliance with this policy, whilst on any Queensland Tissue Products Pty Ltd sites and each person will be held accountable for their actions or failing to act. (further details are included in the OHS Accountability and Responsibility Statement).
Consultation
Queensland Tissue Products Pty Ltd will review this policy annually or when
legislation changes to ensure that it remains current. This will be done in consultation with employees.
Review
Queensland Tissue Products Pty Ltd will review this policy annually or when
legislation changes to ensure that it remains current. This will be done in consultation with employees.
Queensland Tissue Products

Greenhouse & Energy Reduction
Smart Energy Savings Program - Public Commitment
Queensland Tissue Products is 100% committed to reducing greenhouse gas emission and power consumption. We were one of the first to register in the Queensland Government's Smart Energy Savings Program covered by theClean Energy Act 2008. Following an independent Level 2 Energy Audit in July 2010 we have since implemented a comprehensive energy savings plan in accordance with AS 3598:2000.
The key measures from the energy saving plan were:
Energy Efficiency
1. Replacing conventional highbay lights with next-generation induction lights. In total Queensland Tissue Products has installed more than 250 energy efficient LED lights, with an estimated energy saving of over 8000 KHW per year.
Energy Conservation
2. Upgrading our boiler systems to gain a more efficient use of natural gas to produce the steam used in our manufacturing processes. The enhanced new system uses less energy and costs substantially less to run.
Energy Management
3. Completing the installation of a state-of-the-art ION metering system. This is used to review and analyse power consumption in real time and using historic data. It helps to identify unusual loads and quantify further energy saving opportunities.
4. Main load circuit breakers modernisation program. This program was scheduled in order to replace the old circuit breakers in critical locations and optimise overall system reliability.
5. Systematic Motor management program. The program introduced high efficiency motors where feasible and minimised potential damage and associated maintenance.